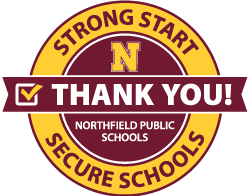 » View the Sibley Elementary Construction Camera
» View the Greenvale Park Elementary Construction Camera
» View the New Greenvale Elementary Video Walk Through
At each school board meeting, Dr. Matt Hillmann provides a brief "construction update" to highlight activities taking place related to the District's successful November 2018 bond referendum. You can read the latest installment below.
For additional construction information you may contact Josh Cooper, Sr. Project Manager with Knutson Construction
#507.206.2522 or jcooper@knutsonconstruction.com.
Latest Drone Footage (updated 12/06/2019)
Bridgewater | Greenvale Park | Sibley
School Board Construction Update
March 9, 2020 school board meeting
In The Loop (from Knutson Construction)
March 27, 2020 edition of In the Loop
March 13, 2020 edition of In the Loop
February 28, 2020 edition of In the Loop
February 14, 2020 edition of In the Loop
January 31, 2020 edition of In the Loop
January 17, 2020 edition of In the Loop
January 3, 2020 edition of In the Loop
December 20, 2019 edition of In the Loop
December 6, 2019 edition of In the Loop
November 15, 2019 edition of In the Loop
November 8, 2019 edition of In the Loop
November 1, 2019 edition of In the Loop
October 25, 2019 edition of In the Loop
October 18, 2019 edition of In the Loop
October 11, 2019 edition of In the Loop
October 4, 2019 edition of In the Loop
September 27, 2019 edition of In the Loop
September 20, 2019 edition of In the Loop
September 13, 2019 edition of In the Loop
August 30, 2019 edition of In the Loop
August 23, 2019 edition of In the Loop
August 16, 2019 edition of In the Loop
August 9, 2019 edition of In the Loop
August 2, 2019 edition of In the Loop
July 26, 2019 edition of In the Loop
July 17, 2019 edition of In the Loop