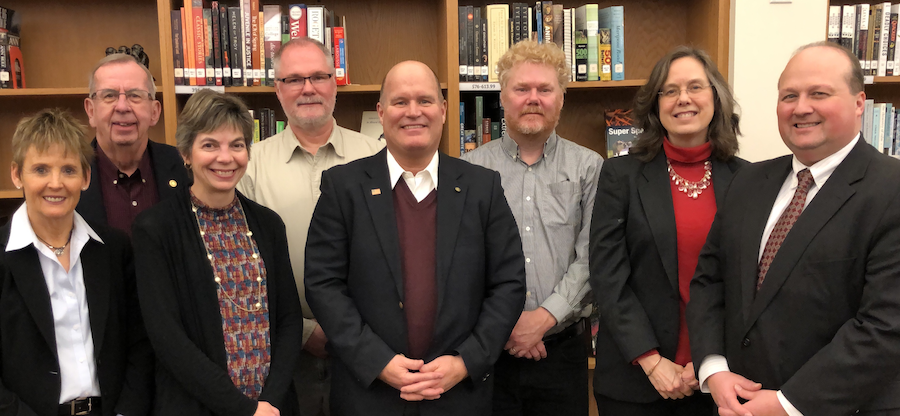 Currently Serving Members of the School Board
The following individuals are currently serving on the School Board for Northfield Public Schools:
Noel Stratmoen, Clerk
Term expires 12/2020
400 Ivanhoe
Northfield, MN 55057
507.645.4506
Tom Baraniak
Term Expires 12/2022
1501 Rolvaag Court
Northfield, MN 55057
507.649.2091
Amy Goerwitz
Term Expires 12/2020
203 Woodley St W
Northfield, MN 55057
507.645.7015
Jeff Quinnell
Term expires 12/2022
13 Riverside Commons East
Northfield, MN 55057
612.875.1300
School Board Elections
District voters elect, at large, seven residents who are United States citizens, at least 21 years of age upon taking office and not registered as a convicted sex offender. School Board members are elected to four-year terms on the November general election day in even-numbered years. Four members are up for election one year and the other three are up for election two years later.
Election Financial Reports
Northfield Public Schools is required to publish financial reports by any organized campaign committee or candidate. These reports will be available on the school district website for four years. M.S. 211A.02, Subd. 6.
2018 Bond Election
Citizens for Quality Education 09.01.18-09.24.18
Citizens for Quality Education 09.25.18-10.28.18
Citizens for Quality Education 10.29.18-11.14.18
Citizens for Quality Education Certification of Filing
Northfield Education Association 10.01.18-10.30.18
Association for Government Accountability 10.15.2018
Association for Government Accountability 03.11.2019
2017 Bond/Levy Election
Citizens for Quality Education 8.1.17-8.8.17
Citizens for Quality Education 8.9.17-9.11.17
Citizens for Quality Education 9.12.17-10.12.17
Citizens for Quality Education 10.13.17-10.23.17
Citizens for Quality Education 10.24.17-11.2.17
Citizens for Quality Education 11.3.17-11.16.17
Citizens for Quality Education Certification of Filing
Association for Government Accountability 9.1.17-9.22.17
Association for Government Accountability 9.23.17-10.29.17
Association for Government Accountability Certification of Filing
2018 School Board Candidates
Tom Baraniak, Julie Pritchard, Jeff Quinnell
2016 School Board Candidates
Tom Baraniak, Fritz Bogott, Amy Goerwitz, Rob Hardy, Ellen Iverson, Noel Stratmoen
2014 School Board Candidates
Fritz Bogott, Margaret Colangelo, Julie Pritchard, Jeff Quinnell