Tech Support
Technology Services staff support district equipment and district-wide software applications.
Please request technology support through SchoolDude using your staff district Google account. Staff will find a SchoolDude app in the Google menu when logged in to Gmail or Google Drive with their district account.
Students and families may request support through their school office or media center.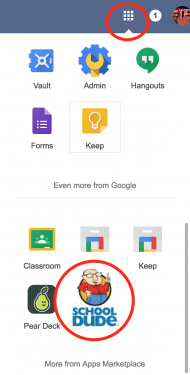 Technology Handbook
For questions related to district devices, software, and technology tools, please see the FAQs.
Meal Account Payments
Adding money to your lunch account works a little differently for staff. Below is a guide to help.
Northfield Schools Technology Tips