This is the second in a series of three posts about the 2018 bond referendum election being held on November 6, 2018. You can read the first post here.
After the ambitious bond referendum failed in November 2017, the District sought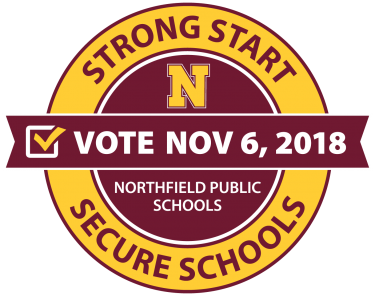 additional feedback from community members about its space needs. Board members and administrators listened intently through scores of individual conversations with community members. We listened as a group of approximately 30 district residents engaged in discussion as part of a Facilities Action Team. We listened to the almost 400 people who engaged in an online Thoughtexchange dialogue. Those conversations uncovered three clear themes:
Focus on elementary facility needs and early childhood programming.
Take common-sense steps to make our schools more secure while maintaining a welcoming learning environment.
Make it cheaper for taxpayers.
In this post, we will focus on the elementary facilities. The total cost of the bond is $40.975 million and will be paid back over 20 years. The property tax increase for the average home is anticipated to be $27 per year or $2.25 per month. Visit the District website for more details on the finances of this bond referendum.
New elementary school on the campus of Greenvale Park Elementary.
The proposed bond referendum includes a new, 600-student elementary school on the campus of Greenvale Park Elementary. It would be a two-story facility for energy efficiency and to minimize the building's footprint, making the most of the site.
The current Greenvale Park Elementary will be re-purposed into a district-wide early childhood center. This re-use of this elementary building opened in 1971 will be ideal for pre-kindergarten, Early Childhood Special Education, Early Childhood Family Education, and our licensed child care center.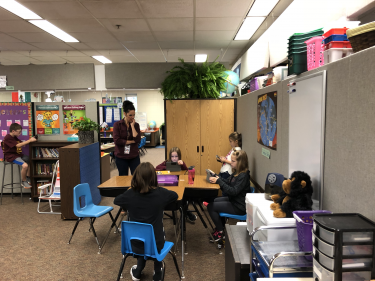 However, it isn't ideal for K-5 instruction. The building was constructed as an open-concept building. This means no general education classrooms have doors. Or walls. While this approach does offer the opportunity for collaboration, it does so to the extreme. Teachers have to carefully coordinate their lesson calendar to avoid one classroom's students participating in a lively, hands-on project while next door is engaged in quiet reading time. While noise is good in an educational environment, constant noise resulting from different activities can make learning challenging for many students. The completely open concept does not provide enough variety of spaces to serve the needs of our students.
Our ultimate goal is to nurture readers, thinkers, and problem solvers. Our current elementary environment at Greenvale Park does not give our teachers the appropriate space to develop those skills as well as they are able. A new elementary school will promote collaboration but also have space for direct instruction, small groups, and spaces where students can get "messy" with their learning.
A new facility would also increase security, providing a secure front entrance that would require visitors to enter the building through the office once the school day starts.
Bridgewater Elementary
Bridgewater Elementary's portion of the bond referendum is about security and space. The current office is situated in the middle of the building. The current entrance is locked once the school day begins and the school office personnel remotely allow access to the building through a camera and buzzer system. The proposal would add a new main office in front of the current entryway. The current office area will be renovated for much-needed classroom space. Bridgewater has significant space concerns, especially when it comes to special education needs.
Sibley Elementary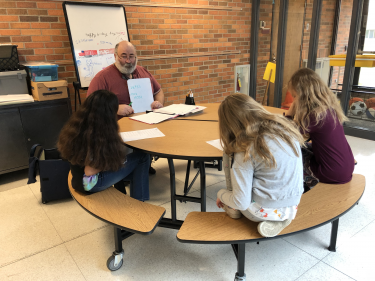 Sibley Elementary also has significant space constraints. The main part of the Sibley Elementary plant was built in 1963 for 250 students. The building now serves 577 children with the cafeteria and library spaces still designed for the original student population. The bond referendum proposal would add a new cafeteria and small music addition at Sibley. The cafeteria addition would allow the current library to be expanded into the existing cafeteria. The remainder of the existing cafeteria and kitchen would be developed into classroom space. The music addition would also have room for additional classrooms for small groups like English Learners and those needing tutoring.
Impact
The impact of these three projects is very clear:
Better instructional space for students currently attending Greenvale Park Elementary. Moving from a completely open concept building to a building that has spaces appropriate for a variety of teaching methods will have a substantial impact on teachers ability to work with students, helping them achieve at their best level. A new facility will also be constructed with modern security practices in mind.
Space relief is the clear impact at Sibley Elementary. There are currently small groups of students meeting in vestibules for tutoring and enrichment. Space in the skylight commons has been refashioned into space for tutors from the Minnesota Reading and Math corp. A new facility will provide much-needed additional space.
Improving security at Bridgewater is the most obvious impact there. A secure front entrance will put Bridgewater's security practices on par with the other schools in the District. In addition, the space relief offered by renovating the main office will be key as well. Overcrowding has sent some special education teachers to rooms originally designed as storage closets.
If you have any questions about the bond referendum, please contact me directly. I want to make sure you have the data you need to make an informed decision.