Dear Northfield Public Schools Families:
Thank you for your partnership in our efforts to combat the COVID-19 global health pandemic. As we enter the second round of distance learning, this partnership is more critical than ever. Please refer to my message on November 13 about our transition to distance learning, information about free meals, and Tier I childcare services.
Your feedback last spring helped us improve our approach to distance learning. Part of that feedback was about providing parent support. In distance learning, parents and caregivers are vital in helping students be successful. We have created an interactive distance learning frequently asked questions flier that gives you information about how to access support for your students:
» Click here for the interactive distance learning FAQ document
We will hold the first in a series of parent webinars this Sunday evening, November 22, from 6:30 pm -7:00 pm. During the webinar, I will conduct a panel discussion about the resources available to support families during distance learning. This webinar will be live-translated into Spanish.
The Southwest/West Central Service Cooperative, based in Marshall, Minnesota, has compiled an excellent and practical set of parent resources to support their students that are applicable during distance learning. The resources include videos and fact sheets for a number of specific situations such as:
There are several other resources available at the Southwest/West Central Service Cooperative's website.
Executive Order 20-99, Protecting Yourself, and Our Community
I want to call your attention to Governor Walz's Executive Order 20-99 that implements temporary restrictions on a number of activities. What is open and what is paused is illustrated in the graphic below. You can click here for a larger version of the graphic.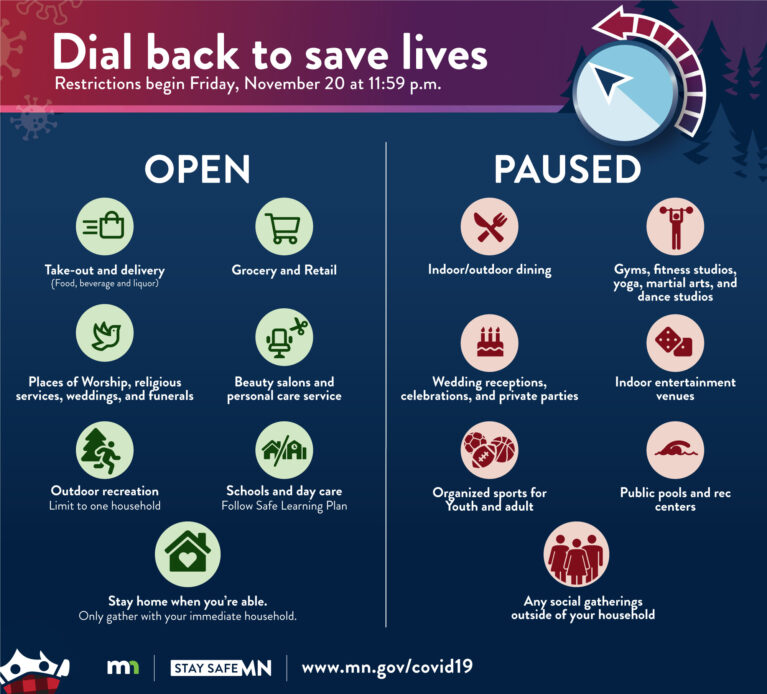 You can view the full text of the executive order here. We are at a critical juncture in fighting the virus surge in our community. Our actions will determine how long it will take to return our students to campus. I implore you to follow these basic protocols to protect yourself and our community from this incredibly contagious virus:
Wear a face mask when in public or with others outside your immediate household
Wash your hands frequently with hot soapy water or use hand sanitizer when washing your hands is not an option
Maintain physical distancing of six-feet
Stay home when you are ill
Avoid large gatherings. Please be cognizant that small gatherings of family and friends are the primary source of community spread. Please refer to the new restrictions on these gatherings associated with Executive Order 20-99.
Get a COVID-19 test if you are exhibiting symptoms associated with COVID-19.
Thank You
Thank you for the ongoing cooperation, support, and grace as we all continue to persevere through this pandemic. I am proud of our community's commitment to each other.
Thanks,
Matt
—
Matt Hillmann, Ed.D.
Superintendent of Schools