At the 2016 Community Education Conference, the radio show "El Super Barrio Latino" was awarded a Minnesota Community Education Association Project Award (MCEA). Project awards are presented to outstanding projects that have exemplified the concept of Community Education.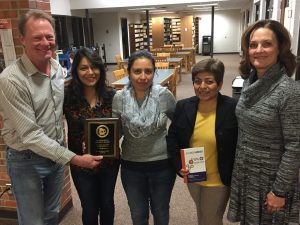 On Sunday nights, a group of women gather to talk politics, play lively Mexican music and reflect on being immigrants, while gazing out over downtown Northfield through a pane of glass as they chat in the KYMN Radio Studio.  The show, called "El Super Barrio Latino" or "The Super Latino Neighborhood," isn't purely entertainment. Its founders hope it will provide a sense of connectedness to Latino residents, informing and encouraging them to get involved in Northfield's city government and schools.  For an hour, the women take turns discussing U.S. politics, sharing news from Mexico and Latin America and happenings in Northfield. There's also a sizable helping of  "music that people know," including cumbia and ranchera tunes from Veracruz, the home state of many Mexican immigrants living in Northfield. 
At the December 12 School Board meeting MCEA Region 5 Board representative, Annie Platek, presented the award to the 3 hosts of the show – Marlene Rojas, Taide Rodriguez and Lucy Gonzalez-Miron – and Jeff Johnson from KYMN Radio.