The Community Services winter/spring brochure is now viewable online. Registration opened Friday, Dec. 11.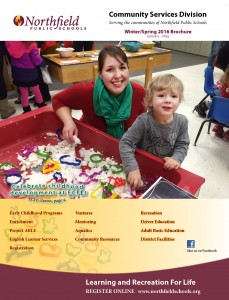 New early childhood programs include kindergarten preparation classes, and youth can find the new recreation classes Northfield Raider Girls Community Basketball and Modern Dance. Adults and youth can take a new Self Defense course or try a new Bike Maintenance class.
Many popular offerings will also return this season, including:
Truck and Tractor Night for all ages,
Soccer Skills Now for elementary-age students,
Middle School Science Olympiad Competition Team for grades 6 – 8,
and Rain Garden Workshop for adults (a collaboration with the Cannon River Watershed Partnership).
Visit Community Services or call 507.664.3649 for more information.
Northfield Public Schools Community Services includes recreation and enrichment programming, Early Childhood Family Education, driver education, KidVentures, EarlyVentures Learning Center, Connected Kids, Middle School Youth Center, Hand in Hand Preschool, Adult Basic Education and Project ABLE.