In celebration of the 91st American Education Week, Northfield Public Schools and the Northfield Education Association (NEA) honored several staff members for years of service to the district and handed out awards in three categories at its annual Staff Appreciation Breakfast on Nov. 21.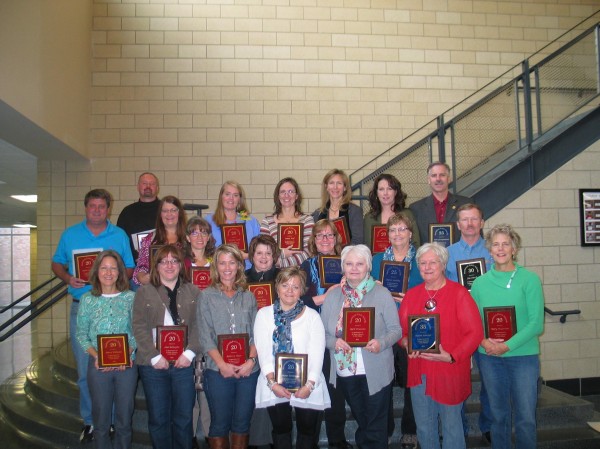 Years of Service awards were given for 20 years of service to Lisa Battaglia, Barb Brunette, Kristen Cade, Rebecca Haar, Karna Hauck, Kristin Hummel, Mark Johnson, Roanne Johnson, Mike Martinez, Mary McGovern, Curt Mikkelson, Carrie Rice, Paul Stanaway, Tania Will and Mary Williams. Karen Bublitz, Tom Graupmann, Jeff Jasan, Christine Neset, Diane Torbenson and Lori Witt Macrae all received an award for 25 years of service. Jim Pasch and John Taylor received an award for 30 years of service, and Karen Koester received an award for 35 years.
The NEA gave its Friend of Education Award to staff members of the Northfield Public Library for their work with students. Joan Ennis, Kathy Ness, Debbie Nitz, Jamie Stanley and Leesa Wisdorf were recognized by the first grade team at Bridgewater Elementary for their numerous efforts to get kids reading and researching, including free book programs, summer activities, daycare visits and library field trips.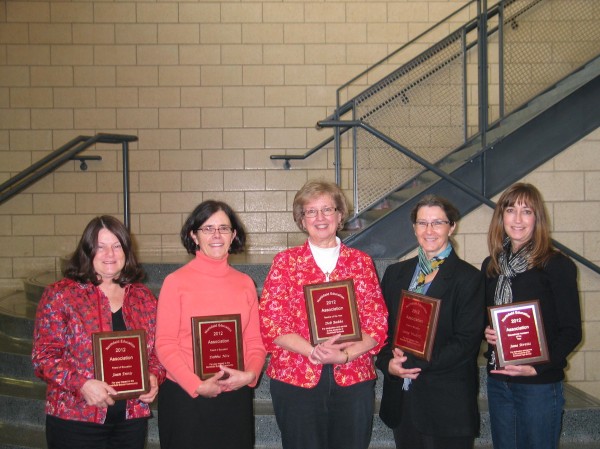 Educational Assistant Jane Streitz was named Paraprofessional of the Year, and the Teacher of the Year Award was presented to Greenvale Park Elementary first grade teacher Deb Bakke.
On behalf of special education teachers at Greenvale Park, Social Worker Jamie Wiebe described Streitz as calming and reassuring without exception.
"Jane's years of service and inherent understanding of student needs let her blend seamlessly into a classroom, allowing the student full access to the classroom, exactly as the student's needs permit," Wiebe said.
Teacher of the Year Award presenter and former Northfield Public Schools teacher, Kristen Lindholm, told the audience of district staff about her daughter, who once dreaded school but then cried on the last day.
"At the end of nine months she said she wanted to be in first grade forever," Lindholm said.
Bakke accepted her award by congratulating everyone in the district and community. Her work, she said, could not be accomplished without the secretaries, custodians, parent volunteers and teachers that surround her.
"I believe that it takes all of us together to be the teacher of the year," Bakke said.
The annual theme of American Education Week, Great Public Schools: A Basic Right and Our Responsibility, reflects the National Education Association's call to provide students with quality public schools so that they can grow, prosper, and achieve in the 21st century.